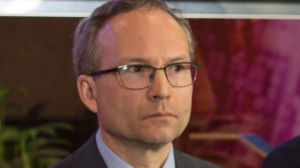 Quebec Treasury Board President Martin Coiteux is blasting school boards for lavish spending.
The newly-elected West Island Nelligan MNA expressed outrage that 150 school board commissioners are on an all-expenses-paid trip to the Chateau Montebello from midweek to Saturday.
"I'm calling on their better judgment. I'm calling on the directors to understand the effort required is an effort that we demand of all, including school commissions," he said.
While government is scraping to make ends meet, the school commission directors are playing golf, dining and enjoying cocktails at the event entitled "a dream conference."
Those in attendance pay a $600 entrance fee, which is reimbursed by the school boards.
"Some of those expenses are clearly exaggerated, there's surely a way to conduct these activities at a lower cost in a manner more acceptable to Quebecers," Coiteux said.
School commissions are independent but still form part of the greater public sector and should therefore put their shoulder to the wheel, according to Coiteux, a former senior economist with the Bank of Canada.
Coiteux recalled that Quebec faces a budget deficit of $3.7 billion.
"This is serious. If we do nothing this year, in 2014-2015 Quebec will have a deficit of over $5 billion, so we're facing difficult decisions," he said.
Earlier this week the opposition CAQ also expressed outrage with school board spending and suggested that the government review the very existence of the boards.
Board representatives could not be reached Friday to comment.
http://montreal.ctvnews.ca/treasury-board-blasts-school-board-conference-1.1825646