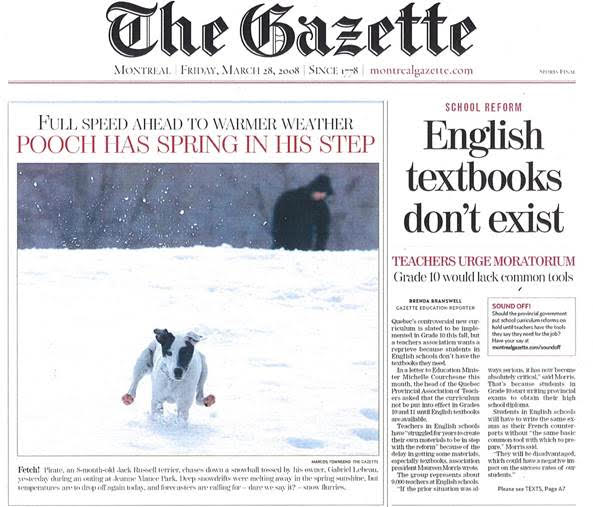 The Montreal Gazette
June 21, 2008
Re: "Textbook foulup penalizes anglophone students" (Editorial, June 16).
As members of the National Assembly, we know that student success is a priority for the Quebec government.
Curriculum reform, begun in 2000, will be introduced to Secondary IV students this fall. They will be writing exams that are required to obtain a high-school leaving certificate, so it is crucial that all students have the tools they need to succeed.
Early this year we asked why textbooks in key areas, including mathematics, history, science and technology, would not be available. The first answers we received – that long delays in preparing French textbooks delayed translation, that the small English book market is not a priority for publishers, and that there were too few skilled translators – were unsatisfactory.
We addressed Michelle Courchesne, the minister of education, who quickly understood the gravity of the situation and instructed her officials to ensure that Secondary IV students will have the textbooks they need this fall.
In mathematics, the first priority, officials developed an innovative proposal whereby LEARN, an educational foundation, will translate the texts in the three courses. These texts will be available on a timely basis throughout the 2008-2009 school year. This was announced by the minister in mid-May. History and citizenship texts, too, will be delivered beginning in September. All these books will be reviewed by English-sector experts, professionally printed in colour, and made available in a modular format.
Finally, school boards had an option to introduce the new science and technology program in September 2008 or wait until September 2009. Several had already decided to wait until 2009; they will continue using the existing textbooks. Other solutions are being examined for those boards implementing the new program this September.
In addition, program guides are available in English, and training sessions have begun. The goal is to make sure all students will be prepared to write their provincial exams next June. The minister also promised that all textbooks should be available for Secondary V in September 2009.
Your editorial did not acknowledge this progress. We recognized the importance of this issue as soon as it was raised in March, and quickly obtained the full support of the minister to find solutions.
Lawrence Bergman, MNA
Russell Copeman, MNA
Yolande James, MNA, Minister of Immigration and Cultural Communities
Geoffrey Kelley, MNA
http://www.canada.com/montrealgazette/news/editorial/story.html?id=a62e848b-a087-4b16-9d0f-677053cf9d46