11 Sep 2013 The Chronicle (Montreal)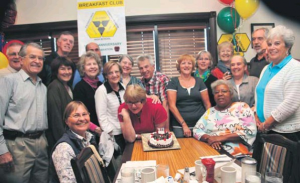 "Here we are in one spot for all these years appreciating each other's company," said retired English teacher, Chris Eustace. "We don't have to worry about our jobs any longer. It no longer holds us down. We can express our opinions as freely as we want."
The breakfast reunions, which occur the first Thursday of every month, began when PCHS teachers held a retirement party for the late Dorothy Roscoe, a former PCHS administrator, 10 years ago. It quickly morphed into something special the retired teachers hold dearly.
"We decided to keep going to one place. It became the focal point of our month, the focal point of gathering where we could share stories and pictures," said Doreen Isler, also a former English teacher.
The group also tosses a loonie or two each encounter to benefit the Good Hope Trust program for orphans in Tanzania, Africa. The program provides shelter, education, and healthcare services for orphans.
Meanwhile, La Dejeuner's owner Epaminondas Rekatsinas has hosted the group of retirees with open arms since buying the former Oeuf & Cie breakfast restaurant eight years ago and has lent financial support to PCHS fundraisers.