By Robert Frank with files from Rhonda Massad, April 23, 2014 – The Suburban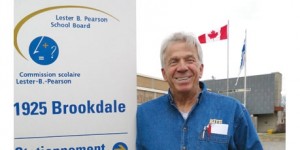 After 15 years as an education watchdog and a 30-year teaching career, Chris Eustace has decided to toss his hat in the ring to chair the Lester B. Pearson School Board (LBPSB).
The Nov. 2 election will be the first time voters will get to choose directly by universal suffrage who will get the top job at the school board, whose $274 million in expenditure last year dwarfed West Island cities' combined operating budgets.
In contrast, the two previous LBSPB heads Marcus Tabachnick and Suanne Stein Day were both acclaimed to represent a single school district after no one ran against them during the last school board election in 2007. They were, in turn, elected chair by a vote of just 21 fellow school commissioners — 14 of whom were acclaimed.
Eustace, who has attended almost every LBPSB council meeting for the past 15 years, has persistently pressed for reform.
Stein Day told The Suburban that she also intends to run for election. As to her aspiring opponent, she wrote in an email that "I have no response to Mr. Eustace's candidacy.  If he meets the criteria set out by the School Elections Act, like anyone else, he has every right to run."
Quebec school board elections have suffered from voter apathy. Five out of six eligible English voters and 13 out of 14 French voters didn't bother to cast their ballot.