The Gazette
Published: Thursday, January 10 2013
Re: "Exercise helps children with ADHD, study finds" (Gazette, Jan. 5)
This study, which shows that school work improved after 20 minutes of exercise by students with ADHD (attention deficit hyperactivity disorder), is yet another example why policy-makers have to legislate more physical education in schools. Let's analyze.
It's common knowledge that kids are not as physically fit as 25 years ago. Children growing up in Canada and the U.S. are the first cohort in modern memory looking at a shorter life expectancy than their parents because of epidemic obesity. Recently, an obesity doctor in Toronto said teen heart disease is coming and warns it will soon overtake tobacco as a killer.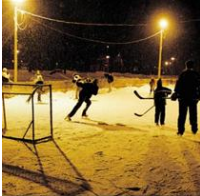 About nine years ago, a Statistics Canada report stated that at least 18 minutes daily of physical education for students would alleviate the problem. Moreover, 91 per cent of Canadians favour more phys-ed in public schools.
Closer to home, the educational reform package emphasized technology with too many courses that encourage shallow breathing. Kids with sedentary habits are exercising their fingers tapping keyboards, rather than exercising their hearts and lungs. Unfortunately, the Quebec Education Plan did not allocate enough time for physical education.
There was a time kids playing outside after school was a common sight, but with an increase in two-income families, which means more unsupervised children, parents are less willing to let their kids play outside unsupervised. Add more homework than ever before, no wonder kids are turning to computers, video games, television and anything with a screen, for company and entertainment – creating a generation of loungers, texting and tweeting.
Meanwhile, last year a political party was promising laptop computers and interactive smart whiteboards for teachers; a local English school board was touting a digital citizenship program; there was not much talk about the importance of getting kids to be physically active.
No question, the aforementioned study is a further incentive to justify the need for additional physical-education time in school. We have to ask ourselves: Which is better for our children – to live longer or be more advanced in academic skills?
The Ministry of Education should consider an investment: add 30 minutes to the school day for daily physical exercise which will, undoubtedly, improve grades and future health of young Quebecers.
About 2000 years ago the Roman poet Juvenal wrote: "Mens sana in corpore sano" – A healthy mind inside a healthy body.
Time for Quebec to shape up.
Chris Eustace Pierrefonds
Children need much more exercise  (Jan. 10, 2013)