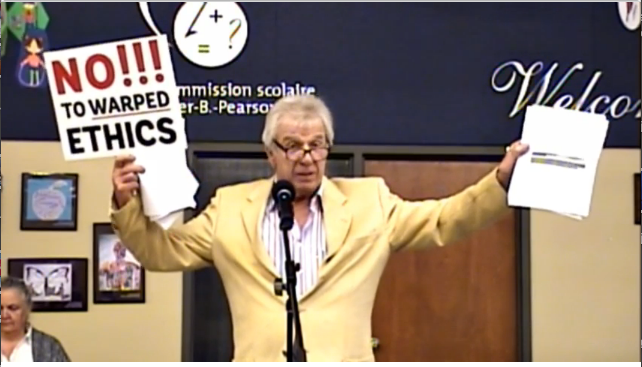 Ethics and the need for Bill 40 | Letters To Editor | thesuburban …
As education evolves, so should ethical standards.
Most public institutions have a code of ethics that govern issues of accountability, democracy and openness.
Since 1997, Article 177.1 of the Quebec Education Act stipulated: "… the council of commissioners must act with honesty and loyalty and in the interest of the school board and the population served by the school board"…
That said, for years the Code of Ethics of the Lester B. Pearson School Board (LBPSB) read: "Commissioners must, at all times, act in the Board's best interest" — not the population, constituents, parents and not the students.
On May 20, 2008, the Central Parents' Committee of the LBPSB pointed out, in writing, during a "Consultation on the Code of Ethics for Commissioners," the difference between the Education Act and the Pearson Code of Ethics.
However, no lesson was learned because on Dec. 7, 2016, The Suburban published an article: "Pearson parents perturbed by powerlessness and secrecy. "
It referred to the ethics scandal involving the chairperson of the Pearson board, who was found guilty of violating the rules in the Ethics Code and Education Act.
A month prior, CTV Montreal reported that it "obtained documents showing that taxpayers are being billed more than $80,000 in legal fees for the investigation. Almost all the costs relate to the legal expenses for the board's chair, at $650/hour."
On January 16, 2019, a headline in a Montreal Gazette article read: "EMSB chair ordered to apologize amid ethics code violations."
That said, school board secrecy erodes public confidence, and, as such, creates many unnecessary problems. As indicated, some of the problems cost the taxpayer a pretty penny.
Through access to information, I was informed by the EMSB that, "the legal fees payed to our ethics commissioners with regards to ethics complaints amount to $117,960.95 for the year 2018-2019." … Note the EMSB has two ethics commissioners.
Presently, in Quebec, school boards not only hire their own ethics commissioner, but also make up their own codes of ethics. It is possible for an ethics commissioner hired by two boards, to render different decisions for the same offence depending on the board's code of ethics.
No more. School board reform Bill 40 stipulates: "an English-language school service centre's board of directors must adopt a code of ethics and professional conduct for certain categories of its members."
To avoid dishonest and unscrupulous practices, a good Code of Ethics must provide members of the service centers with a moral compass to guide them in times of turbulence; it also must establish rules for irreproachable ethical behaviour to make sound decisions.
Simply put: service centres practises and policies must be based on clear and unambiguous Code of Ethics with parts of it, I believe, should be "determined in a ministerial regulation."
Meanwhile, we must dismiss those who wish to maintain the status quo.
Chris Eustace – Pierrefonds, QC
---
Pearson board secrecy on ethics is unconscionable
Jim Wilson – Montreal, QC